The Last Humanistc AI Content Generator You'll Ever Need!
Get Best-In-Class Text-to-Voice, Text-to-Human, & 
Text-to-Image AI Technology Fortune 100 Companies Rely On - ALL Under ONE ROOF!
For A Low One-Time Investment...
Synthesys Is A Trusted Company In Delivering AI For 
Get Synthesys AI Studio Kick-Start, Today!
The Main Suite Of Synthesys AI Tools With Commercial License!
This DOES NOT include any upgrade features,
but offers tremendous value at a low one-time price…
Synthesys Is A Trusted Company In Delivering AI For 
Don't You Want The BEST AI Has To Offer NOW And In The Future For Your Business?
For over 4 years now Synthesys has been a pioneer in the AI Content Generation Industry, leading the pack continuously with ground-breaking AI apps time and time again.
​
We've taken customer feedback, innovated, and ultimately have developed a top tier HUMANISTIC AI content generation app that's trusted by Fortune 100 giants NVIDIA and Coca-Cola – not to mention the 1000's of happy customers using Synthesys to this very day!
This Isn't Your "Run Of The Mill" AI App…
Synthesys specializes in text-to-voice, text-to-human, and text-to-image and content generation that, cumulatively is above and beyond what anyone else offers and
FOR THIS LAUNCH PERIOD ONLY – it's being offered at a MASSIVE DISCOUNT…
uses REAL HUMAN Voices to create the most realistic text-to-voice you've ever heard..
Synthesys Text-To-AI Human
uses real human models with precise lip-synch technology… AND the AI Text-To-Human is a complete VIDEO BUILDER so you can create videos from scratch with AI Humans in them...
is driven by the latest technology to produce virtually any type of image you can think of…
It's ALL In One Dashboard
With Seamless Media Applications Between Tools…
Meaning media you produce in one feature can be used effortlessly in another completely eliminating the need for different apps to produce your AI media!
​
Create a voice over in the AI Text-To-Voice tool and easily use the media in AI Human without leaving the dashboard!
​
Create the perfect images for your AI Human Videos and immediately drop them in your projects!
The Media You Produce Is Stored In Your Library For Easy Access NO MATTER WHAT AI TOOL You're In!
See Synthesys AI Studio In Action!
Nowhere In The WORLD Can You Get
ALL Synthesys AI Studio Has At This Price…
This Offer For Synthesys AI Studio & Everything You See Here Today
Will Not Last Long!
Unlock your full potential with Humanistic AI today with Synthesys AI Studio with Commercial License!
​
Don't miss out on this incredible opportunity to get Text-to-Voice, Text-to-Human, Text-to-Image, and MORE all within one dashboard – and yes, ALL at a low, one-time, investment…
Frequently Asked
Questions
Q. Is Synthesys AI Studio Hard To Use?
Q. What Is Synthesys AI Studio Kick-Start?
No, the user-interface is extremely straight forward.  You can point and click your way to brand new Humansitic content in literally minutes.  If you do get caught up on something, there's robust video training on every aspect of the app.  
Synthesys AI Studio Kick-Start is a Humansitic AI content generator. It includes all text-to-voice, text-to-human, text-to-images and more.  It's all available in one seamless, easy to use dashboard. 
Q. Will This Work On Mac & PC?
Q. Is This A One-Time Fee?
Yes! Human Synthesys Studio is 100% cloud based and works on any operating platform on any internet connected device. It runs inside your internet browser so you can access it on any computer with an Internet connection. Nothing to install; nothing to update.
YES!  Everyhing you see is included with Synthesys AI Studio Kick-Start (with commercial license) for a low, one-time investment!
NOTE: By PURCHASING this software or RECEIVING IT as a PRIZE, YOU are LEGALLY AGREEING that you will NOT use Synthesys AI Studio or the images or videos from this software for the purposes of endorsement or impersonation, or for any purposes where it may be deemed unethical, immoral, or illegal. Producing anything sexual or violent is STRICTLY PROHIBITED.
​
You, as the product owner, are responsible for ALL CONTENT that is produced from this site.
​
You fully acknowledge that Synthesys AI Studio is not responsible nor liable for content generated by you.
​
By PURCHASING this software or RECEIVING IT as a PRIZE, you FULLY UNDERSTAND that you can be PUNISHED BY LAW if you create and distribute fake news, false information, defamatory or foul content.
​
ANY VIOLATION to this Legal Agreement will be cause for immediate termination of your account without refund.
​
ALSO, if you purchase this product from any other source besides DIRECTLY from this vendor and through an approved JVZoo affiliate, know that you will NOT own this product and will not be eligible for Synthesys AI Studio Support nor will you be eligible for a refund from this vendor since you did not purchase through the vendor.
​
So called "product sharing membership sites" are illegal. They offer you nothing but access to the membership and not ownership of a product. Everyone else who has access to the same accounts can see what you are creating, can edit your work, and even delete it.
Synthesys Is A Trusted Company In Delivering AI For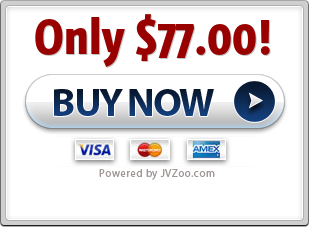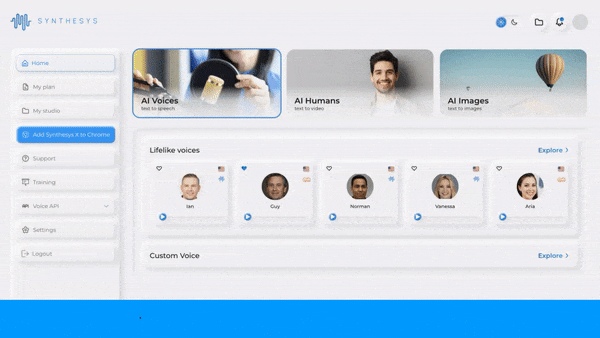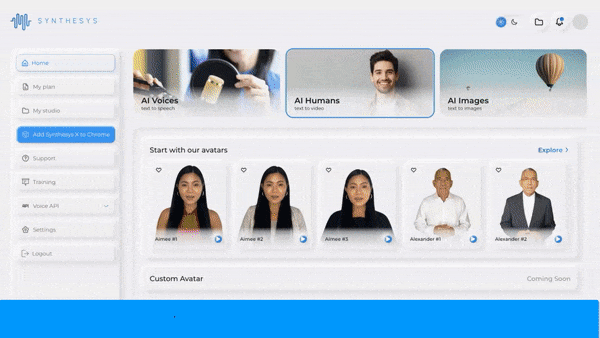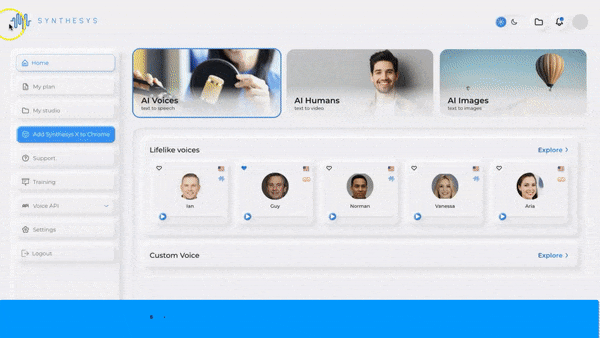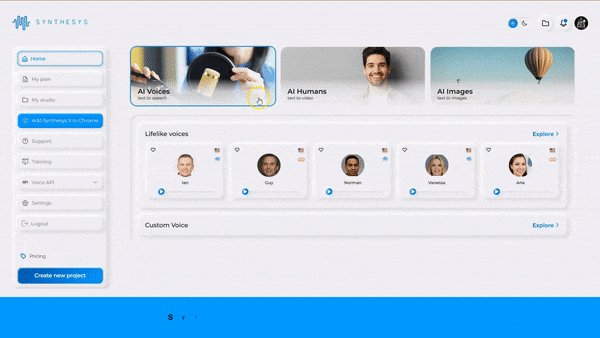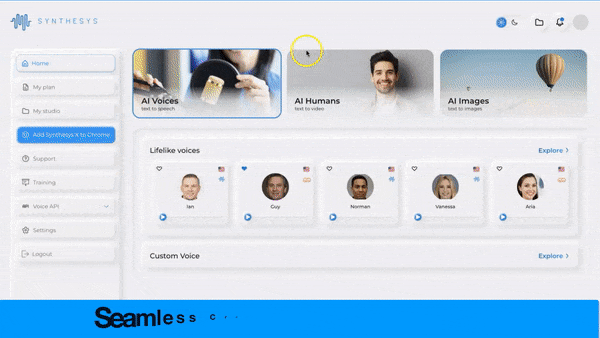 12 Ultra Life-like voices
140 languages + 370 Voices
Voice Minutes
30 Minutes/month
Multi-Voice Functionality
Video Minutes
30 Minutes/month
10 Ultra Life-like Voices
140 Languages + 370 Voices
50 Generations/month
(approx.200 images)
Current Synthesys Customers
Share Their Experience Using The App!
Look At All The Ways Synthesys AI Studio Can  
Drive Unlimited Results For Your Business With AI IMAGES!
Synthesys AI Studio has it all, so you can do it all for your own business and offer it all to other businesses as well – saving you and your clients $1000's of dollars and dozens of hours in IMAGE content creation every single year.
Synthesys AI Studio Text-To-Image Engine Can Be Used For...
E-commerce and Product Visualization:
If you're marketing on ANY ecommerce platform,
high-quality product images are a MUST to attract customers. Synthesys
text-to-image engine generates premium images based on your textual descriptions, eliminating the need for professional product and stock photography.
Automatically generate images for digital content creation, like blog posts, social media posts, advertisements, and presentations. Eliminates the need for manual image selection or hiring graphic designers.
Did you ever think of giving designers and developers (across a range of different niches) a VISUAL representation of your ideas and concepts?  Instead of creating manual mockups, Synthesys text-to-image can quickly generate images based on the text you input. Share your vision and collaborate in ways never possible before.
Gaming and Virtual Worlds:
Text-to-image AI can be utilized in gaming and virtual worlds, where it can generate unique and visually appealing characters, landscapes, or objects based on textual descriptions or user interactions. This can enhance the gaming experience and reduce the need for extensive manual asset creation.
Personalization and Customization:
Synthesys can offer personalized and customized image generation for users. For example, it can create personalized, customized marketing materials, and visual content tailored to ANY audience. 
The app can generate images to expand existing stock image libraries or create entirely new ones. By automating the image generation process, Synthesys can help you rapidly grow the inventory of available images, which can be licensed or sold to individuals, businesses, or creative professionals.
"What you can create with Synthesys's software is nothing short of incredible! This is State Of The Art. There's nothing else that even comes close, as far as I know, and certainly not for the relatively small investment. Even better, the program's creators continue updating and upgrading the product, as the technology expands, at no extra cost! Try it, and be amazed at the possibilities!"

Synthesys AI Studio Text-To-Voice Engine Can Be Used For All Of This And MORE...
Audiobook and Podcast Production:
Quickly convert written content into audio format, making it ideal for producing audiobooks or podcasts. By automating the narration process, the technology saves time and costs associated with hiring voice actors or recording studios. It allows for faster content creation and enables content creators to reach a wider audience.